Decorative film allows existing windows to be renewed according to your needs
DECORATIVE FILM
TO EMBELLISH OR FROST YOUR GLAZING
DECORATIVE FILM INSTALLATION FOR EVERY TASTE AND NEED
Decorative film allows existing windows to be renewed according to your needs, either by adding frosted strips to reduce visibility from outside to inside and vice versa. Decorative film can also be used to brighten up and brighten up places. Entreprises JN can help you find the best film solution for your windows and display cases. See all our achievements!
ENTREPRISES JN, EXPERTS IN DECORATIVE FILM INSTALLATION
At Entreprises JN, we install decorative film and frosted film for all types of glass and glazing. Whether for residential or commercial installations, these decorative films are highly prized for their many benefits, such as beautifying the premises without compromising the layout.
MORE COMFORTABLE WORKSPACES
This photo shows a frosted film with very little translucency, making it virtually impossible to see in and out. The upper shutters are uncovered, allowing the light to penetrate; the lower part has also been deliberately stripped to give an impression of the interior's grandeur. A decorative film in great demand.
See in this photo how a simple strip of frosted decorative film, matched to the company's image, makes the work environment much more pleasing to the eye. What's more, the chosen level of opacity makes spaces without walls much more discreet, without the sense of suffocation felt by the presence of walls or drywall. An alternative to consider.
We have a wide range of frosted films to dress up the windows of your commercial spaces; the possibilities are endless! Whether you want to completely cover a window with a semi-glazed film to prevent people from seeing inside, or you want longitudinal strips installed in strategic places to make the area more intimate and much more aesthetically pleasing, we have the film to suit your needs.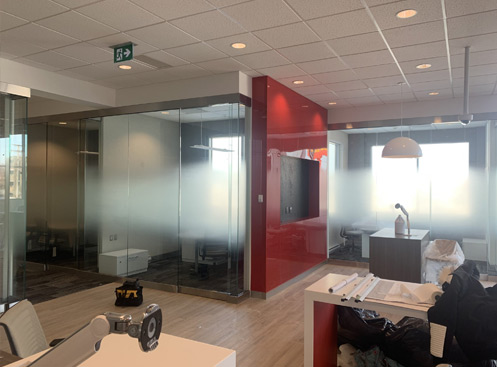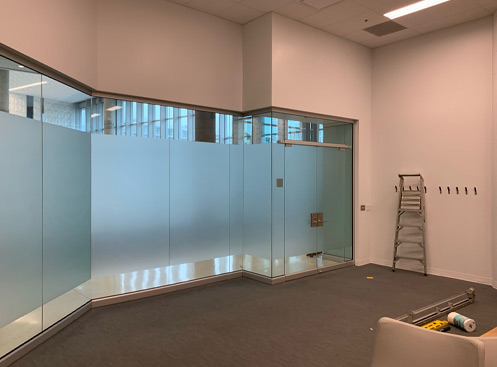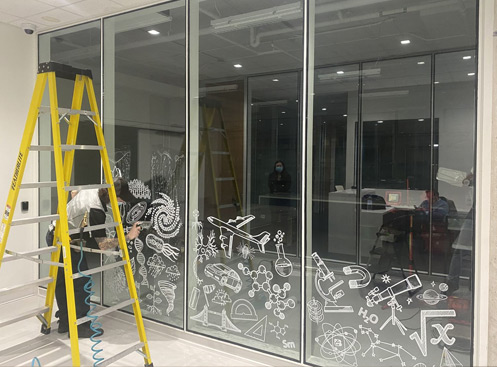 NEED A PRICE? A QUICK AND EASY QUOTE IS REQUIRED.